Today is Friday, January 22, 2010. How would Michael have spent his 50th birthday?
Michael may have been in the middle of a concert tour or a feature film, a music collaboration or a solo recording project. The 21st Century is yesterday, and Michael's words and music have endured. Today the current Haiti earthquake tragedy would not have been far from Michael's heart. He wrote with Jon Farriss about universal suffering back in '89, somewhat prophetic in the opening lyrics of "Disappear" which was INXS' last hit in a string of hits to make the Top 10.
"I'm Crying
I'm looking at what's on TV
Pain and suffering
And the struggle
To be free"
But despite the struggles of our times, how would Michael have spent today? Fiftieth birthdays, reaching half a century, are always very special events, bringing families together, celebrating the life of the loved one with anecdotal stories reflecting on their great achievements, comical situations, and special stories of endearment from the past.
Michael would probably have preferred a low-keyed family gathering with a few close friends. Almost certainly his preference would be to spend it in the summer climate of his home town, Sydney, Australia. Reaching fifty would have been for Michael, as for anyone, a milestone in life and a somewhat sobering shock that one's youth doesn't last forever!
No doubt Michael would have been sharing his birthday with his daughter Tiger, an opportunity to share with her and family some stories of his latest tour or film. But he would have also loved her to listen to his Dad, Kelland, who may have continued his story telling with accounts of courageous achievements in the Hutchence family's past. So Tiger perhaps would have been listening to the stories of the Hutchence boys, three generations, that had come before her. We have conducted some detailed research especially for Michael's 50th birthday to share with you how we think those stories may have been told to Tiger. Life goes on today and a fourth generation Hutchence has reached her teens. Four generations of Hutchence's. All are different, all are great.
And so to the stories, stories about Tiger's Great Grandfather, Captain Frank Hutchence who sailed the colonial seas over a hundred years ago. Stories about how he captained his sailors in the majestic sailing clippers that set sail from London to cross the southern seas. He sailed many trips to gather vital wheat and lucrative wool from Sydney in the latter part of the Victorian era. That was the Hutchence family's first contact with Sydney; the city where Captain Frank eventually bought his bride to settle in 1920; the city that Kelland Hutchence was born into four years later; the city that become Michael's first home in the heat wave of Friday, 22nd January, 1960. The city where Michael's grandfather, Frank, had passed away 3 years before in 1957 from health complications due to damage to his organs from maleria tablets that were linked to his heroic transporting of US marines on his ship, Liberty.
Frank fearlessly sailed his vessel to the Pacific beaches of the war torn jungles of World War II. Refused a role with the Australian forces because of his old age, he had persisted and persuaded the Americans to use his maritime skills. This decision eventually cost him his life. When he died he was one of the very few sea captains to have a ticket for both steam and sailing ships.
Back to the birthday party …and perhaps as the barbecue lost it's glow, there would be more toasts to Michael… and then the anticipated arrival of a lavish birthday cake with all those candles.
…Then more stories from Kell of how Tiger's decorated Great Granddad, who was born in India, had captained HMAT Bakara, a medium sized steam ship that had been captured as an enemy raider and then converted for transporting Australia's heroic Lighthorse regiments into the battlefields of World War I. Captain Frank spent the war years from 1914-1918 making dangerous trip after trip, loaded with horses and soldiers from Sydney, Melbourne and Adelaide to the frontline in the Middle East and Europe.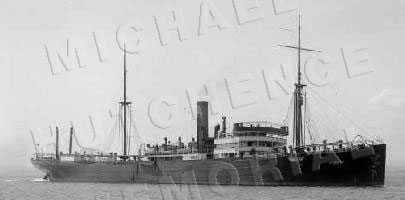 Then stories of Kell's years in the RAAF in the 1940's where he trained in new radar technology. According to his squadron mates, Kell took his duties very seriously. The early warning alerts of enemy aircraft were vital to Australia's defense. Kell later used his air traffic experience to manage tropical outposts for Australia's premier airline company, QANTAS.
And stories of Kell's Indiana Jonesque escapades in an old DC4, flying across enemy lines in North Vietnam to deliver fresh supplies to US troops during the Vietnam War. And of Kell's exotic career in management in the days when he spanned the globe setting up manufacturing plants and distribution warehouses.
Need we say that standing beside each of these gallant Grandfathers at their passing was a great woman, an adoring wife. Kell's mother, Tiger's Great Grandmother, spent a part of her day praying for her children and her children's children, children.
And not least Tiger's Father's stories of great accomplishments. "Did your Daddy tell you about the time he recorded with the great Ray Charles?" Kelland might say. "He was in Ray Charles' studios in LA and actually had to teach Mr Charles how to sing your Daddy's song!"
Michael teaches Mr Charles
To continue with the great Hutch stories is perhaps more appropriate for a future article. So, what do you think was Michael's most important achievement? There were so many. But in the last years of his life, he spoke of Tiger at any opportunity. For Michael, Tiger was everything.
And so because today is very special, for the first time we include some special media to link to and remind us of those great stories. A photo of Captain Frank's WWI troop transport ship, HMAT Bakara; a father and son photo of Kell and Michael taken at the airport in Hong Kong; and a radiant photo of Michael, Paula and Tiger that Michael sent to his family. And as a final present for Michael's loved ones, friends and fans, a world exclusive release, an audio excerpt of two sadly missed music legends, Michael Hutchence and Ray Charles in a rare studio conversation.
All little reminders that life comes and goes, and always continues on… from parent to children, generation to generation, story to story. God bless the child, and God bless the parents that have gone before them.
All your family, friends and fans say a huge, "Happy 50th Birthday, dear Michael!"
Dennis Ian Patterson
On behalf of all the Team at Michael's Official Memorial Site.