INXS' Kirk Pengilly attended the Penfolds Gala Black Tie Dinner in LA recently – to honour Nicole Kidman, Mel Gibson and Keith Urban for their excellence in promoting Australia in the United States – part of Australia week celebrations in Los Angeles. Freelance reporter Jodie Patterson spotted Kirk at the after party and called him into the kitchen to request a few words for the fans… Kirk was more than happy to oblige!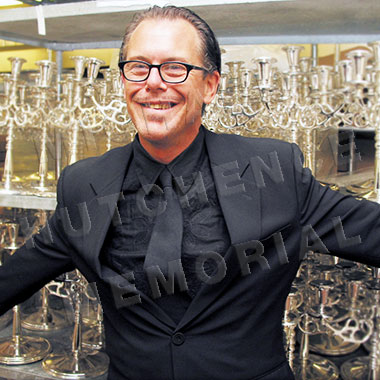 Jodie Patterson: Fill us in on what's been happening with the band lately, your thoughts…
Kirk Pengilly: INXS is heading into unchartered territory now. We are about to do a TV show in partnership with Mark Burnett, CBS have bought the show here in America, and we are doing a world wide search for a new singer. But we are not trying to replace Michael, we just want a new singer, because he's no longer our singer, and he's absolutely irreplaceable. One of our criteria, or briefs to the casting agents and all the people involved with doing all the editions is "what we don't want is another Michael Hutchence", because you cannot replace Michael. We want someone that is different. Personally, I hope it's a female, because then there are not the comparisons with Michael.
Do you still have thoughts about Michael, do you miss him?
Always, absolutely. When Michael died it was a huge shock to all of us, and we all left town – got out because of the press – for about four or five days. I went down to my farm, I got really, really drunk, and I went to sleep. I woke up in the middle of the night after having a dream that Michael visited me. In my dream he came to me as an owl in a field and said: "Don't worry; I'm finally free, I'm finally happy – don't worry." I woke up, balled my eyes out at 3am in the morning, and went back to bed. Ever since then I've felt very comfortable about it all, but at the end of the day I miss him very much… but we are a great band, and Michael was very much a part of that.
We're hoping with this show that we are about to do that we will find some amazing fun person, male or female so that we can continue to do what we love doing, and that's making music. I think Michael would have always wanted us to do that.
Do you have some words for the fans that come to visit Michael's memorial site and fan site daily?
Well, I have great respect for that, but you do have to move on. Michael left a great legacy. I have respect for people that still mourn for him and miss him, we will always miss him. He was our best friend, partner, business partner, comrade, part of the six of us. There was always this chemistry between us, and that involved the six of us. Even our original manager became a seventh member, and we always thought there was a chemistry with the seven of us, and whatever we did worked.
But I know that Michael would want us to do whatever we want to do now, and would always want us to carry on the legacy of INXS – everything that we made and built as a band, he would condone. I know that he's looking down and saying that what we are about to do with this TV show is a great idea, and a great thing, and he wants the best for us.
Copyright 2005, and granted permission for the exclusive use on www.michaelhutchence.org