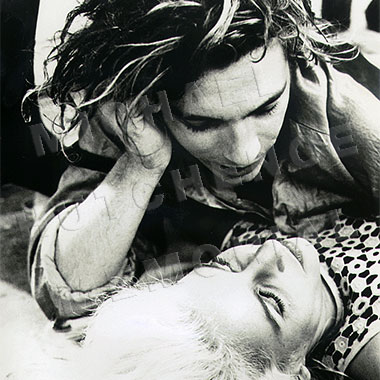 Sam is a member of "Dogs in Space" and one of the residents of the punks' and hippies' household. He is from a neurotic, Catholic middle-class family from the outer suburbs of Melbourne. Sam is handsome and affects an endearing air of "puppy-dog" stupidity that makes him attractive to young women. This can be deceptive, however, as there is an element of ruthless ambition about him.
His girlfriend, Anna, has a vivacious, outgoing personality that is immediately infectious. She has shoulder length blonde hair and a gleam in her eye when she speaks. She is much more "together" than Sam but is crazily head-over-heels in love with him. Anna works part-time as a trained nurse and often has money to spend. Sam has little or none.

Michael Hutchence as Sam
Michael Hutchence was born in Sydney and moved to Hong Kong with his parents when he was four. He returned to Australia when he was thirteen.
On his first day at school in Sydney, Michael met and became friends with Andrew Farriss. A few years later they formed INXS.
After finishing school, Michael spent the next few years on the dole, living in a communal house and pre-occupied with music. At a rehearsal for a drummer one day Andrew invited Michael to sing. This was the start of INXS.
Michael first heard of Richard Lowenstein a few years later when the 'Talking to a Stranger' rock clip recorded by Hunters and Collectors was playing on television. Michael was very impressed by it and sent Richard some songs hoping he'd be interested in one.
"Working with Richard was the biggest thing on my mind before starting this film. More so than even the movie itself. I have always thought his work fantastic. As it turns out its been an incredible learning process. Its been the best thing I've done in years. I've been working in the music scene since I got out of school. It's a bit like breaking out all over again. It's funny because the first thing I ever wanted to do was act. And now I've done it!"
When INXS toured Queensland in 1983, Richard Lowenstein came up to Cairns and filmed the 'Burn For You' clip which won the 1984 Countdown Rock Clip Award. Since then, INXS have chosen Richard to direct rock clips for all of their hit songs, including: 'All The Voices', 'Dancing On The Jetty', 'What You Need' and 'Listen Like Thieves'.
Between 1983 and 1986, INXS have developed into the most successful rock group in Australia. In 1985 and 1986 they won the Countdown Awards vote for Most Popular Band and Michael was voted Most Popular Male Personality. In the 1985 Live Aid Telecast link-up, INXS were the only Australian band to be televised worldwide.
In mid-1984, INXS were playing in Nice and Richard was attending the Cannes Film Festival with his first feature film, STRIKEBOUND. Richard attended the INXS concert and brought Michael back to Cannes. Over breakfast with an Australian film producer Richard outlined the idea for his next feature film. Michael was surprised to hear Richard weaving him into the story. After this, they started talking seriously about making DOGS IN SPACE.
Michael takes up the story: "DOGS IN SPACE is not a glossy version of what happened in the late seventies. It's fairly close to reality. That's the integrity of the movie and that's the integrity of anything good, trying to tell like it is.
"I had had offers before to do movies but I didn't want to make some cliched, easy, safe, cutesy movie where I looked good on the screen for the sake of my fans and my management. I had to convince a lot of people that I wanted to do this film. It was no whim of mine. The most difficult thing for me when we were filming was to try and not be myself. Richard really wanted me to play a caricature. He really pushed me. I guess he was trying to push me away from myself as far as possible.
"The other thing that shocked me was the amount of technical preparation. It was very difficult to maintain a pattern of thought for so long. For hours the crew would be getting things into place while we stood by waiting.
"The hard part to get across about the character Sam was the puppy-dog figure who would run around seemingly without a brain in his head but underneath being a very interesting person.
"Sam used to act dumb on purpose so that people would find him endearing. Obviously, he's not that stupid, although he tends to look it sometimes with his squinting, short-sightedness and constant ruffling of his hair.
"Anna is a fairly together person. She's got a job and her own apartment. Sam is the antithesis of that. Although he does change by the end of the movie. In a way, you could see the film as a process of Sam flowering, because by the end of it he's gone through so much that he's a new person.
"Sam and Anna have an almost reckless love for each other. Sam especially. He's pretty wild and anarchic and expresses his love for Anna in strange ways. Like falling to the middle of the floor with her at the club. At the same time he loves to flirt. He is a romantic. He's in love with love. He has it easy with women because women like him. So, it's a frivolous, light, easy thing. That is how he relates to The Girl, although because she is a total stranger I think she scares him a bit. She sees through him perhaps.
"But in the end, with de death of Anna, Sam is alone. He has to figure things out for himself. He goes through a mourning and comes out of the dark side looking at a new world. He no longer wants to sit around, he no longer wants to take heroin. Underneath it all, he finds he has ambition. We see him with a new band and a new style of music.
"I think it will be interesting to see how young people relate to The Girl. She is a bystander. She has time on her side. Enough time to avoid the mistakes that she witnesses others make. She is unlike the others in the house. And she survives the era unscathed. The Girl becomes the connection with the new era."

Saskia Post as Anna
Born in Martinez, California, Saskia Post moved between America and Japan with her parents, before settling in Australia in 1975.
When she was five, Saskia recalls seeing THE SOUND OF MUSIC and since then has wanted to be an actress. At school she studied acting and singing. After finishing high school she spent a year attending acting workshops and dance classes in Sydney.
Saskia started a degree course in drama and arts at the University of New South Wales but gave it up after twelve months to attend a full-time course at The Drama School in 1981. Shortly after completing the course she obtained her first television role.
Saskia successfully auditioned for the role of Julia, a young Dutch refugee in THE SULLIVANS. She moved to Melbourne and worked with Crawford Productions for twelve months before leaving to take part in a feature film.
Saskia played Eva, a Czech-born bank teller in John Duigan's ONE NIGHT STAND, a satirical drama about naivety and human fortitude. The film was set inside the Sydney Opera House on the night that World War 3 broke out.
While continuing to play in numerous television series since 1982, Saskia looks back on THE SULLIVANS as being "Great fun and highly rewarding. I haven't enjoyed working in television as much since then."
In 1984, Saskia appeared in the feature film BLISS as the young Honey Barbara. BLISS, directed by Ray Lawrence, won the 1985 A.F.I. Award for Best Film.
For Saskia, DOGS IN SPACE was very different from her previous work because of the subject and the environment on set. She had never worked with a large ensemble of actors and non-actors before. "This made a huge difference. It made the atmosphere so much more earthy and raw. We spent a lot of time together getting to know each other, hanging out in the house and going out as a group."
Saskia had never met Michael Hutchence before the production of DOGS IN SPACE. She found him, "A very down-to-earth person. There was no issue made of his rock star image. Michael wanted to fit into the ensemble and that happened very quickly. We got on well together. Actually, working with him was fantastic. He had an enormous commitment to the film. We all did. It was a great experience. Intense but great.
"Richard gave us a lot of room to move with our roles from the rehearsal stage on. The script was really a skeleton script. People were able to develop their character from that. He gave us an immense amount of space to work in.
"The other thing with Richard was his unusual approach to filming. He would have such long scenes, all in one shot. Actors could then build something very real. Things would be going on in different parts of the house and Richard would get it all in one go. It made things so much easier working in this way."
Saskia compares the characters in the film to pin balls in a pin ball machine. "They would be going in all directions and it didn't matter to them. Except Anna, who cared a lot abut what was happening to her. She was not like the others. She sought some security in her life.
"A maternal and loving figure, she loved Sam a great deal. She believed in him. She wanted him to be successful. He may not have cared too much but she loved him. Besides, they had great sex!
"I think Anna took drugs with Sam to understand him better. She had no personal desire to use them but it was a way of finding out what he was experiencing. Unfortunately, the results were tragic!"