Tracklist
Let Me Show You [3:38]
Possibilities [4:31]
Get On The Inside [4:49]
Fear [3:43]
All I'm Saying [4:05]
A Straight Line [3:39]
Baby It's Alright [3:52]
Don't Save Me From Myself [3:22]
She Flirts For England [3:12]
Flesh And Blood [5:04]
Put The Pieces Back Together [4:38]
Breathe [3:52]
Slide Away feat. Bono [4:22]


Introduction of the album in 1999
One of the most anticipated Australian albums of the decade, the release of "Michael Hutchence", the first full-length solo effort from Hutchence, the charismatic 37-year-old singer for popular internationally-successful rock band INXS, already has people talking.
An intensely personal collection of songs, it's easy to lend meaning to the ominous lyrics featured on the album. Listening to the funky, soulful tracks and pleading vocals, it's hard to miss the dire, insistent nature of Michael's lyrics – his sultry voice booms as he sings about his lack of privacy, the pressures of fame and, more often, the search for redemption.
The album was written and recorded over two years with the collaboration of Danny Saber (U2, The Rolling Stones, Black Grape), former Gang of Four guitarist Andy Gill and Bomb the Bass member/producer Tim Simenon. Two tracks featured on the album were mixed by Tim Palmer (Smashing Pumpkins, Pearl Jam).
Hutchence created an invigorating and challenging album, one he was immensely proud of, but one which was always about pushing boundaries. Talking about the solo album before his death, he mused, "As someone once said, a great band is a great compromise. You get around the table and play poker. With a solo thing, you have the awesome responsibility of doing it by yourself."
Tracks on the album include guest performances from ex-Clash singer Joe Strummer (Let Me Show You), backing vocals from Denise Johnson (Primal Scream) and Bernard Fowler (The Rolling Stones) and a special and moving duet with Bono (Slide Away). The only track not vocally completed on the record, Bono and Gill wrote the extra verse and completed vocals recently, with the haunting words capturing their deep friendship and Bono's grief after Hutchence's death.
The album, simply titled Michael Hutchence, ranges from the funky upbeat tracks through to ballads with pleading vocals, and the result is a mature and intensely personal collection of songs.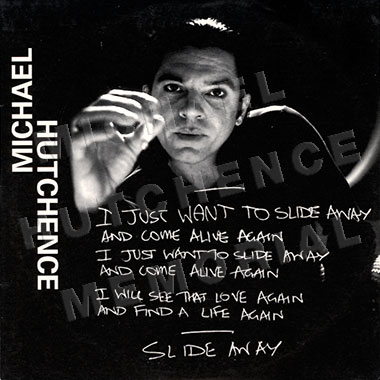 The first single, A Straight Line, received its world premiere on Australian radio on Monday September 13, gaining immediate massive radio airplay, and becoming the #1 most added record in Australia w/c September 20. The single has been released commercially on September 27, and will be backed by another new track Standing On The Rooftop (not featured on the album), and a cover of the Iggy Pop track The Passenger, originally recorded in 1995 with Tim Simenon for the Batman Forever soundtrack. A video for A Straight Line has been completed by US director SA Baron (Whitney Houston, Public Enemy) and premiered on Australian television on September 25.
Michael Hutchence release dates: Australia, New Zealand and Japan on October 11, 1999. UK, Europe and Asia on October 18, 1999. North America February 22, 2000.
A limited edition version of the album, including an embossed cover and individually numbered cds, has been released for initial quantities of the album in Australia only.